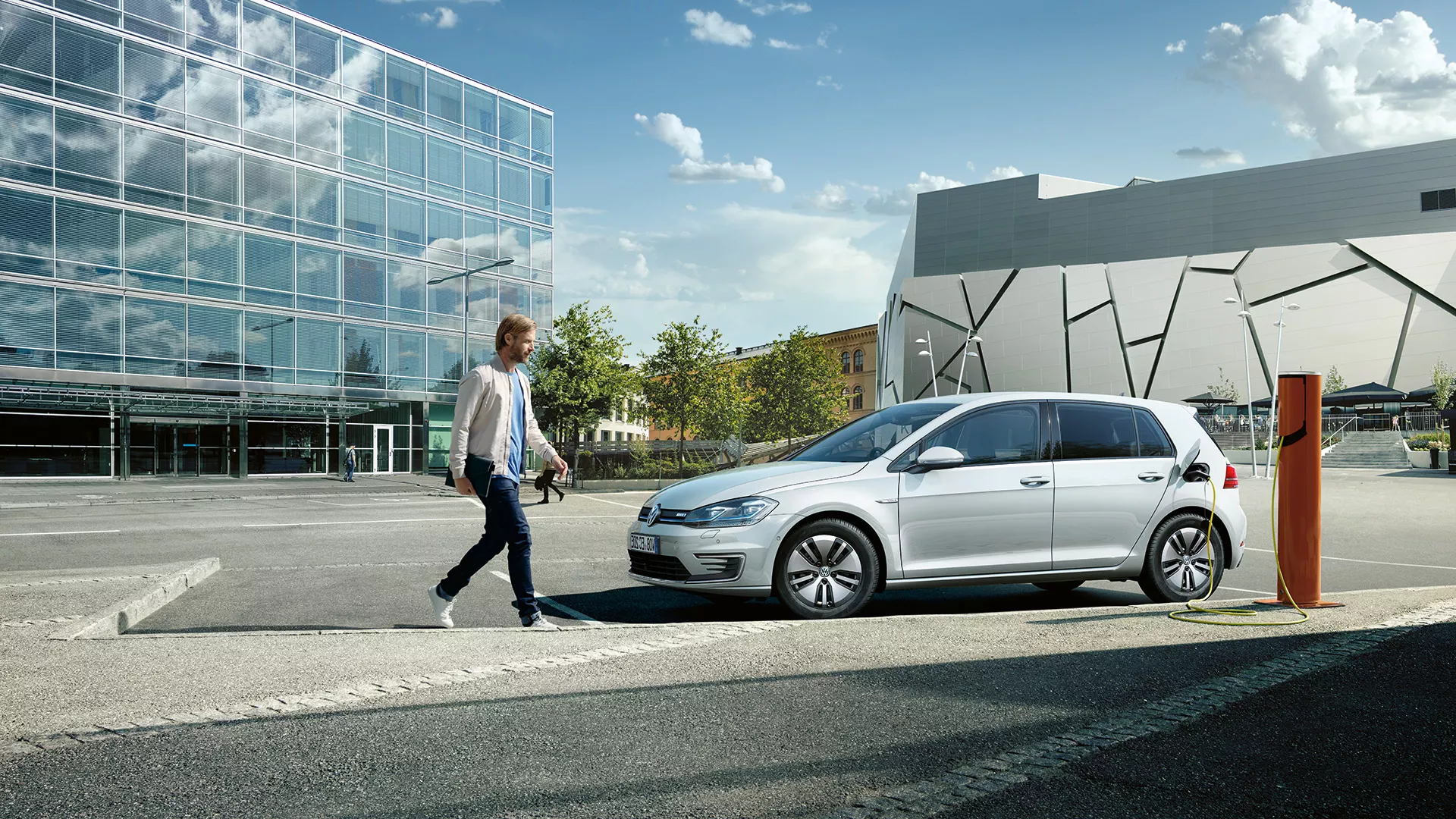 Wieloletnia przyjaźń Golfa z kierowcami zaowocowała rewolucyjną zmianą. 100 kilometrów przejedziesz już za 9,73 zł.1
Czysto elektryczny napęd jest idealnym rozwiązaniem na krótszych odcinkach - na przykład w mieście. Ale to nie wszystko. Twoim Nowym e-Golfem będziesz mógł bez problemu pojechać także w dłuższą trasę. Jego zasięg wynosi aż 231 km (WLTP)2. e-Golf zwraca uwagę także dzięki swojej intuicyjnej obsłudze i oszczędnym silnikom.
Stylistyka i wyposażenie
Intrygująca stylistyka nowego e-Golfa spełnia wszystkie oczekiwania, jak przystało na model będący wyznacznikiem stylu. Dzięki bogatej ofercie opcjonalnych detali Twój Nowy e-Golf nabierze indywidualnego charakteru.
Skuteczność i oszczędność z Twoim Nowym e-Golfem.
Twój Nowy e-Golf stawia czoła wyzwaniom współczesności i spełnia stawiane przez nią wymagania. Mocny, prawie bezgłośny silnik elektryczny dba o imponujące przyspieszenie, umożliwiając jednocześnie oszczędną jazdę, a inteligentne sterowanie ładowaniem ułatwia ładowanie samochodu.
Infotainment - nowy e-Golf zrozumie Cię bez słów.
Nowy e-Golf daje Ci wiele możliwości wykorzystania nowoczesnych technologii w jeszcze bardziej intuicyjny i prosty sposób. Jego rewolucyjna funkcja sterowania gestem ułatwi każdą podróż.
Asystenci kierowcy
Lata doświadczeń z kierowcami zaowocowały powstaniem inteligentnych systemów wspomagania kierowcy zapewniających większy komfort jazdy. Nowy e-Golf, teraz jeszcze bardziej intuicyjny, wspiera Cię w krytycznych sytuacjach lub pomaga ich uniknąć. Nawet jeśli obecność tych technologii odczuwać będziesz sporadycznie, dobrze wiedzieć, że Twój samochód zawsze jest gotów do pomocy.
Komfort w Nowym e-Golfie to zwieńczenie od lat budowanej przyjaźni z kierowcami.
Rozgość się w Nowym e-Golfie. Dzięki jego niesamowicie intuicyjnej obsłudze, bogatemu wyposażeniu podstawowemu, i wielu wygodnym dodatkom będziesz cieszył się nim na nowo każdego dnia.
Nowy e-Golf dba o bezpieczną zmianę pasa i wygodny wyjazd z miejsca parkingowego.
Jeśli w lusterkach wstecznym lub bocznym nie możesz zobaczyć zbliżającego się do Ciebie pojazdu, oznacza to, że znajduje się on w niebezpiecznym martwym punkcie. Teraz o Twoje bezpieczeństwo podczas zmiany pasa ruchu zadba opcjonalny czujnik martwej strefy. Działający od prędkości 15 km/h czujnik ostrzeże Cię, podświetlając diodę znajdującą się na lusterku zewnętrznym Golfa. Jeżeli mimo wszystko włączysz kierunkowskaz, dioda zacznie migać jaśniej i z większą częstotliwością.
Czujnik Blind Spot, w połączeniu z asystentem utrzymania pasa ruchu Lane Assist, w granicach możliwości systemu, ostrzega przed zmianą pasa ruchu za pomocą korygującego skrętu kierownicą.
Asystent wyjazdu z miejsca parkingowego Rear Traffic Alert, w granicach swoich możliwości, pomaga wyjechać tyłem z miejsca parkingowego. Czujniki w tylnym zderzaku monitorują ruch za samochodem. W przypadku zbliżania się pieszego, roweru lub innego pojazdu system ostrzega kierowcę zarówno sygnałem dźwiękowym, jak i optycznym — na wyświetlaczu radia lub systemu nawigacyjnego. Jeżeli nie zareagujesz na ostrzeżenie, system automatycznie zainicjuje hamowanie, by zminimalizować skutki zderzenia lub nawet go uniknąć.
Korki? Dla Ciebie i Twojego Nowego e-Golfa to żaden problem.
Opcjonalny asystent jazdy w korkach wykorzystuje sprawdzone funkcje, jak aktywny tempomat ACC i asystent utrzymania toru jazdy Lane Assist, aby zapewnić wygodne poruszanie się za jadącym z przodu pojazdem. e-Golf będzie automatycznie podążał za znajdującym się przed nim samochodem, utrzymując pas ruchu i odpowiedni dystans.
Opcjonalny system Emergency Assist przejmuje na siebie częściowe kierowanie samochodem w przypadku niezdolności kierowcy do prowadzenia auta. System aktywuje się, gdy asystent utrzymania pasa ruchu Lane Assist stwierdzi brak aktywności kierowcy oraz reakcji na ostrzeżenia. Emergency Assist, poprzez szarpnięcia hamulców, dźwiękowe i optyczne sygnały ostrzegawcze, włączenie świateł awaryjnych oraz ingerencje w układ kierowniczy, spróbuje zmusić kierowcę do reakcji, a także ostrzec ewentualnych pasażerów i innych uczestników ruchu. Jeżeli kierowca nadal pozostanie bierny, e-Golf zostanie zatrzymany w sposób kontrolowany. System – w granicach swoich możliwości – może zatem pomóc uniknąć wypadku.
Asystent jazdy w korkach i Emergency Assist wchodzą w skład pakietu drogowego plus. 
Duże natężenie ruchu? Dla Nowego e-Golfa to żaden problem.
Już nie musisz nieustannie pilnować odległości od jadącego przed Tobą pojazdu. Pomoże Ci w tym standardowy aktywny tempomat ACC.
Czujnik ACC mierzy odległość i prędkość pojazdów jadących przed Twoim e-Golfem. I wyhamowuje samochód nawet do zupełnego zatrzymania, a także — jeżeli postój nie trwa długo — automatycznie rusza. Przy prędkości do 210 km/h, w granicach swoich możliwości, ACC utrzymuje odległość od jadącego z przodu pojazdu.
Czasami zdarza się coś niespodziewanego i konieczne jest hamowanie awaryjne. W takich sytuacjach pomocny może okazać się opcjonalny system obserwacji otoczenia Front Assist. System, w granicach swoich możliwości, ostrzeże Cię, jeśli wykryje niebezpieczne zbliżenie się do jadącego z przodu pojazdu. W szczególnie krytycznych sytuacjach Front Assist automatycznie zainicjuje hamowanie, redukując prędkość, z jaką mogłoby nastąpić zderzenie.
Funkcja awaryjnego hamowania w mieście ingeruje w układ hamulcowy przy poruszaniu się z niewielką prędkością, a funkcja rozpoznawania pieszych jest w stanie — w granicach swoich możliwości — rozpoznać nagłe wtargnięcie pieszego na jezdnię. System ostrzega kierowcę, wspomaga hamowanie lub samoczynnie hamuje, co pozwala na uniknięcie kolizji lub przynajmniej zminimalizowanie jej skutków.
Parkowanie jeszcze nigdy nie było tak proste.
Wystarczy tylko 80 cm na manewrowanie, a Nowy e-Golf zaparkuje się sam, dzięki opcjonalnemu systemowi Park Assist. A przy tym sam znajdzie miejsce parkingowe, jeżeli będziecie poruszać się z maksymalną prędkością 40 km/h. System nie tylko ułatwia parkowanie równoległe tyłem, lecz także parkowanie przodem prostopadle lub równolegle do jezdni, na przykład w garażach podziemnych, gdzie na ogół jest ciasno.
Kierowca musi jedynie sterować sprzęgłem oraz pedałami przyspieszenia i hamulca - asystent przejmie kontrolę nad kierownicą i idealnie wprowadzi pojazd na miejsce parkingowe lub pomoże z niego wyjechać. Wspomaganie można przerwać lub wyłączyć w dowolnym momencie - wystarczy ruszyć kierownicą, zmienić bieg na jałowy lub nacisnąć przycisk Park Assist.
Dynamika i oszczędność w najnowocześniejszej formie: silnik Nowego e-Golfa.
Mocny, prawie bezgłośnie pracujący silnik nowego e-Golfa doskonale pokazuje, do czego zdolne są nowoczesne silniki elektryczne. Moc maksymalna 100 kW i moment obrotowy 290 Nm, dostępny już od pierwszego obrotu, mówią same za siebie. Parametry te pozwalają przyspieszyć samochód od 0 do 100 km/h. w zaledwie 9,6 sekundy i rozpędzić go do 150 km/h. Przyspieszenie od 0 do 60 km/h. zajmuje jedynie 4,2 sekundy.
Hamowanie zwiększa zasięg Nowego e-Golfa. Kierowca decyduje o zakresie odzyskiwania energii, wybierając jeden z trybów rekuperacji: od maksymalnego hamowania z pełnym odzyskiem energii po minimalne wytracanie prędkości z niewielkim odzyskiem energii hamowania.