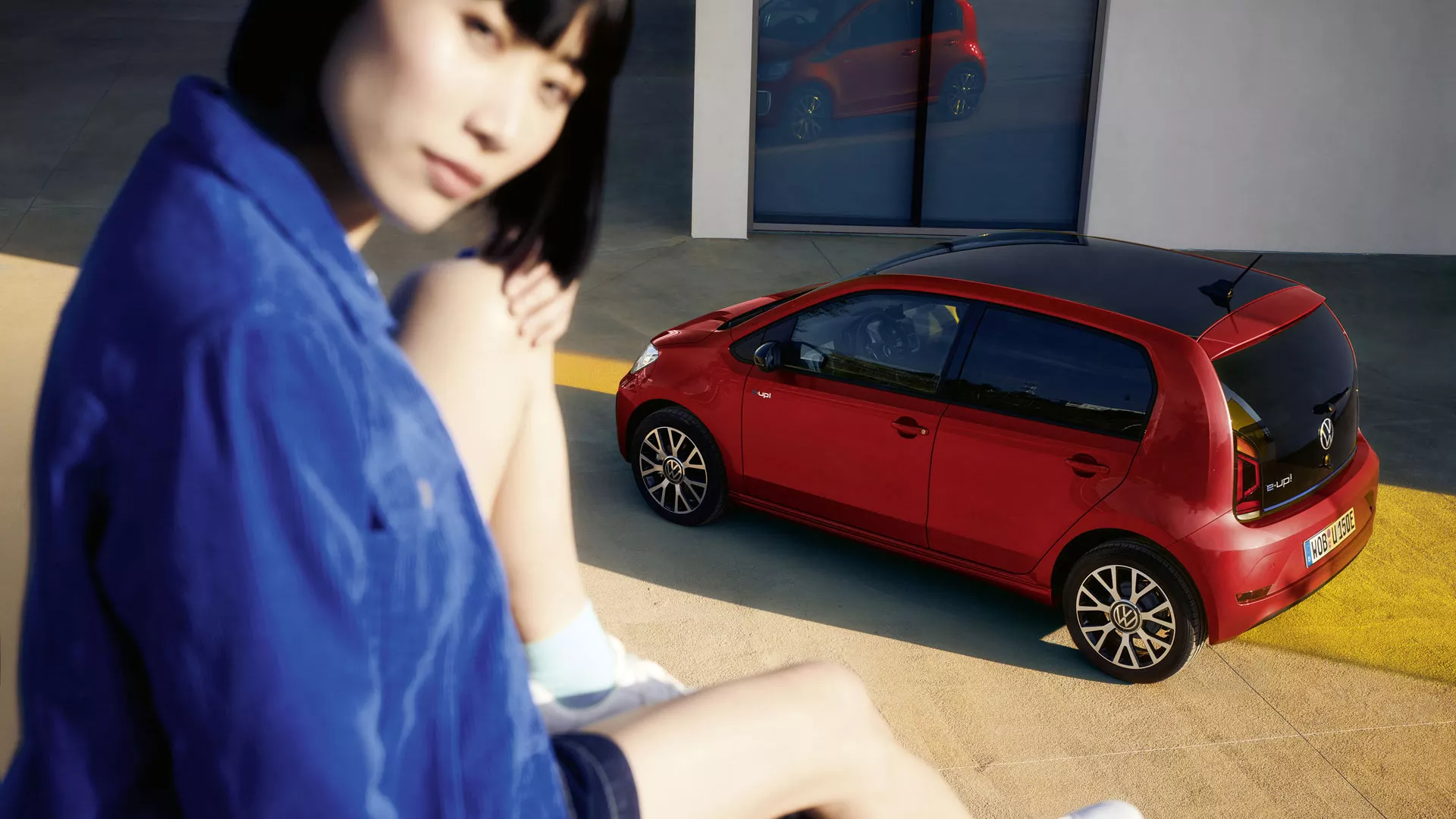 e-up! Wciśnij elektryczny pedał gazu. Przejedź 100 kilometrów już za 8,87 zł1.
Chcesz przejść na e-mobilność? Z e-up! to żaden problem! Mocny silnik elektryczny zapewni Ci doskonałe wrażenia podczas każdej jazdy - nie emituje spalin i zapewnia zasięg aż do 134 km (WLTP)2. e-up! to wspaniały towarzysz codziennych podróży.
Stylistyka i wyposażenie
Każdy Volkswagen charakteryzuje się wysokiej jakości wyposażeniem i rozpoznawalnym designem. A dzięki licznym opcjom indywidualizacji stworzysz własnego, niepowtarzalnego e-up!. Będziesz zaskoczony, jak wiele możliwości masz do wyboru.
Efektywność
Jeździsz dużo i chętnie, ale chciałbyś zużywać niewiele paliwa? Nowoczesny silnik w e-up! wyróżnia się oszczędnością, mocą i osiągami.
Komfort
Rozgość się w e-up! Dzięki bogatemu wyposażeniu podstawowemu, intuicyjnej obsłudze i wielu wygodnym dodatkom będziesz cieszyć się nim na nowo każdego dnia.
Infotainment
Chcesz zadzwonić podczas jazdy, sprawdzić aktualne informacje o ruchu drogowym, wyznaczyć najszybszą trasę do celu lub po prostu posłuchać ulubionej muzyki? e-up daje Ci wiele możliwości wykorzystania nowoczesnych technologii w intuicyjny i prosty sposób.
Asystenci kierowcy
Inteligentne systemy wspomagające nie tylko poprawiają komfort podróżowania Twoim e-up! — pomagają też zachować kontrolę w krytycznych sytuacjach, a nawet ich uniknąć. Dobrze mieć dostęp do zdobyczy techniki, nawet jeśli nie korzystasz z nich na codzień.
Kamera cofania - zmień punkt widzenia.
Dzięki opcjonalnemu systemowi Rear Assist nic Cię zaskoczy. Kamera aktywuje się po włączeniu biegu wstecznego, a na ekranie systemu Infotainment wyświetlony zostaje obraz obszaru za samochodem, co ułatwia rozpoznanie przeszkód przy cofaniu. Rear Assist wyświetla także linie pomocnicze pozwalające lepiej ocenić odległość. To się nazywa "dobry widok".
Wszędzie dobrze, ale w e-up! najlepiej.
Pozwól ułatwić sobie życie - opcjonalny pakiet Comfort, dzięki systemom wspomagania kierowcy zapewnia optymalny komfort jazdy. Podczas deszczu pracą wycieraczek steruje specjalny automatyczny czujnik. Zapamiętanie i utrzymanie preferowanej przez Ciebie prędkości gwarantuje tempomat, a kamera cofania wykrywa - w ramach pola widzenia - obiekty znajdujące się za pojazdem podczas cofania.
System ParkPilot. Parkuj, gdzie tylko chcesz.
Parkowanie jest sztuką. Ale nie w nowym e-up!. Jeżeli nie widzisz, ile zostało Ci miejsca na manewrowanie, z pomocą przyjdzie system czujników parkingowych ParkPilot. Dostępny na życzenie system posiada czujniki w tylnym zderzaku e-up!, które, w granicach możliwości, ostrzegają przed przeszkodami za pomocą sygnałów akustycznych oraz optycznych - widocznych na ekranie systemu Infotaiment. Im bliżej przeszkody, tym większa częstotliwość sygnału dźwiękowego. Przy odległości mniejszej niż 30 cm sygnał staje się ciągły. Praktyczne czujniki parkowania dla e-up! są elementem opcjonalnego Pakietu Drogowego. Jaka jest główna zaleta e-up! z ParkPilot? Robi "piiiiip" zamiast "bum"!
Chwile grozy są mu obce. e-up! z funkcją awaryjnego hamowania w mieście.
Ten dodatkowy "pasażer" może okazać się nieocenionym pomocnikiem, ułatwiającym poruszanie się w mieście. Przy prędkości od 5 do 30 km/h działa automatycznie, chroniąc przed zderzeniami. Za pomocą czujnika laserowego monitoruje obszar do dziesięciu metrów przed pojazdem. Jeśli Twój e-up! nadmiernie zbliży się do jadącego z przodu samochodu, a Ty nie zareagujesz, system zainicjuje hamowanie (o ile zostaną spełnione warunki do zadziałania systemu), redukując prędkość, z jaką mogłoby nastąpić zderzenie. System wspomaga hamowanie, zwiększając ciśnienie w układzie hamulcowym. System awaryjnego hamowania w mieście pomaga zminimalizować skutki zderzenia, lub nawet go uniknąć.