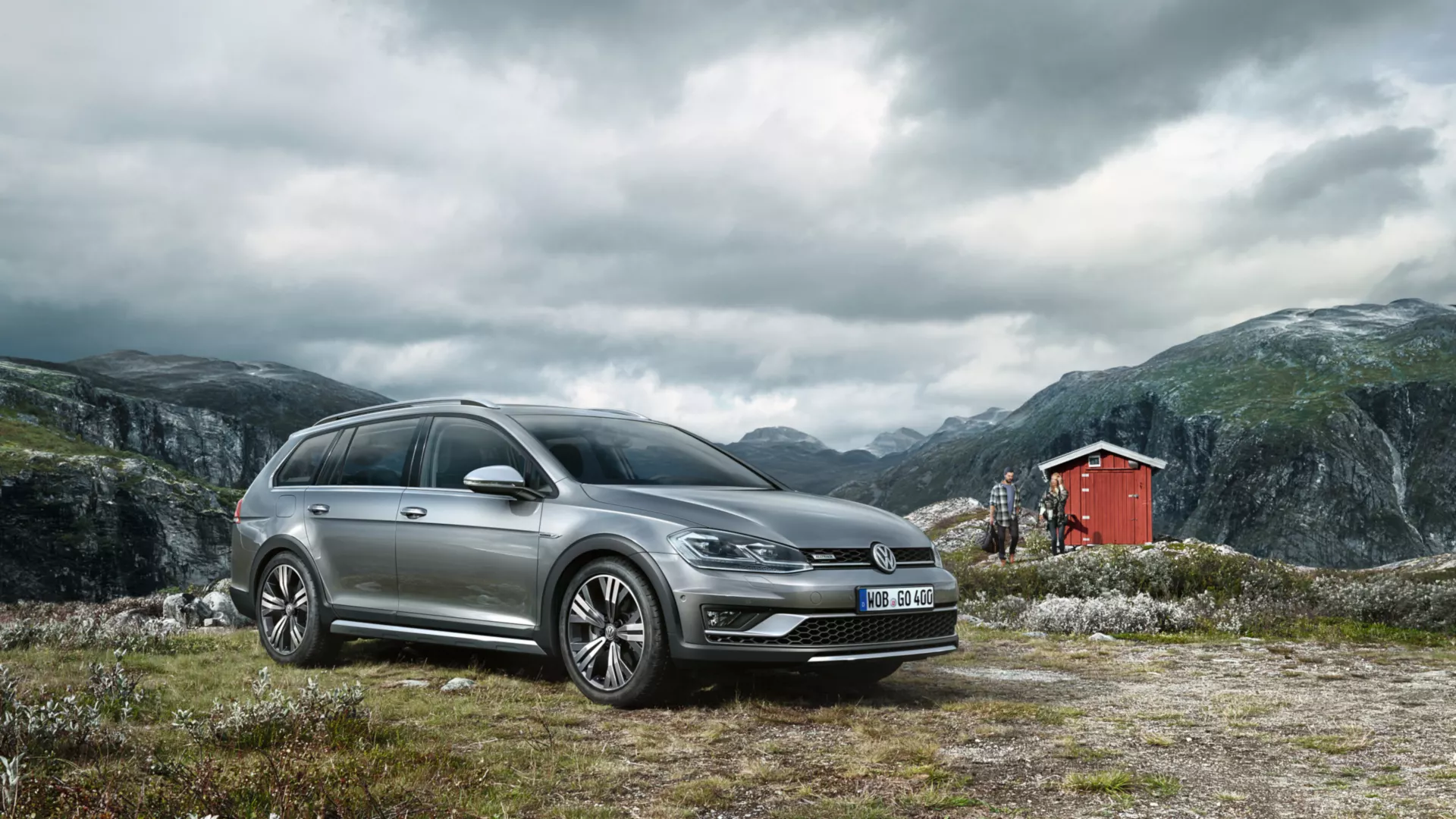 Podążaj własnymi ścieżkami.
Zwiększony prześwit, podwyższone zawieszenie, relingi dachowe i duży bagażnik – Nowy Golf Alltrack jest przygotowany na wyzwania, jakie niosą ze sobą zwyczajne i mniej zwyczajne dni. Napęd na cztery koła 4MOTION gwarantuje doskonałą trakcję na niemal wszystkich podłożach.
Stylistyka i wyposażenie
Wysoka jakość wyposażenia i ponadczasowa stylistyka charakteryzują każdego Volkswagena. A dzięki bogatej ofercie opcjonalnych detali Twój Nowy Golf Alltrack nabierze indywidualnego charakteru.
Skuteczny i niezawodny kompan podróży
Nowy Golf Alltrack to gwarantowana przyjemność jazdy. Napęd 4MOTION rozdziela siłę napędową na wszystkie cztery koła, zapewniając ich doskonałą przyczepność na różnych podłożach. Dostępna na życzenie funkcja wyboru profilu jazdy pomoże Ci dobrać optymalne ustawienie parametrów samochodu.
Infotainment - Nowy Golf Alltrack rozumie Cię bez słów.
Nowy Golf Alltrack daje Ci wiele możliwości wykorzystania nowoczesnych technologii w jeszcze bardziej intuicyjny i prosty sposób. Jego rewolucyjna funkcja sterowania gestem ułatwi każdą podróż.
Asystenci kierowcy
Lata doświadczeń z kierowcami zaowocowały powstaniem inteligentnych systemów wspomagania kierowcy zapewniających większy komfort jazdy. Nowy Golf Alltrack, teraz jeszcze bardziej intuicyjny, wspiera Cię w trudnych sytuacjach lub pomaga ich uniknąć. Nawet jeśli obecność tych technologii odczuwać będziesz sporadycznie, dobrze wiedzieć, że Twój samochód zawsze Cię wspiera.
Komfort w Nowym Golfie Alltrack to zwieńczenie przyjaźni budowanej z kierowcami od lat.
Rozgość się w Nowym Golfie. Dzięki jego niesamowicie intuicyjnej obsłudze, bogatemu wyposażeniu podstawowemu, i wielu wygodnym dodatkom będziesz cieszył się nim na nowo każdego dnia.
Korki? Dla Ciebie i Nowego Golfa Alltrack to nie problem.
Opcjonalny asystent jazdy w korkach wykorzystuje sprawdzone funkcje, jak aktywny tempomat ACC i asystent utrzymania toru jazdy Lane Assist, aby zapewnić wygodne poruszanie po zatłoczonych ulicach. Golf Alltrack będzie automatycznie podążał za znajdującym się przed nim samochodem, utrzymując pas ruchu i odpowiedni dystans.
Opcjonalny system Emergency Assist włącza się automatycznie, gdy kierowca nie wykazuje żadnej aktywności i nie reaguje na ostrzeżenia. W takiej sytuacji system, poprzez szarpnięcia hamulców, dźwiękowe i optyczne sygnały ostrzegawcze, włączenie świateł awaryjnych oraz delikatne ruchy kierownicą, próbuje zmusić kierowcę do reakcji, a także ostrzec pasażerów i innych uczestników ruchu. Jeżeli kierowca nadal pozostanie bierny, samochód zostanie zatrzymany w sposób kontrolowany. System może więc, w granicach swoich możliwości, zapobiec wypadkowi.
Asystent jazdy w korkach i Emergency Assist wchodzą w skład pakietu Drogowego Plus.
Duże natężenie ruchu? Dla Nowego Golfa Alltrack to żaden problem.
Już nie musisz nieustannie pilnować odległości od jadącego przed Tobą pojazdu. Pomoże Ci w tym Twój Nowy Golf Alltrack i jego aktywny tempomat ACC.
Czujnik ACC mierzy odległość i prędkość pojazdów jadących przed Twoim Golfem. Podczas jazdy w kolumnie samochodów i w korkach system współpracuje z opcjonalną przekładnią dwusprzęgłową DSG i wyhamowuje samochód nawet do zupełnego zatrzymania, a także - jeżeli postój nie trwa długo - automatycznie rusza. Przy prędkości do 210 km/h, w granicach swoich możliwości, ACC utrzymuje bezpieczną odległość od jadącego z przodu pojazdu.
Czasami zdarza się coś niespodziewanego i konieczne jest hamowanie awaryjne. W takich sytuacjach pomocny może okazać się opcjonalny system obserwacji otoczenia Front Assist. System, w granicach swoich możliwości, ostrzeże Cię, jeśli wykryje niebezpieczne zbliżenie się do jadącego z przodu pojazdu. W szczególnie krytycznych sytuacjach Front Assist automatycznie zainicjuje hamowanie, redukując prędkość, z jaką mogłoby nastąpić zderzenie.
Funkcja awaryjnego hamowania w mieście ingeruje w układ hamulcowy przy poruszaniu się z niewielką prędkością, a funkcja rozpoznawania pieszych jest w stanie - w granicach swoich możliwości - rozpoznać nagłe wtargnięcie pieszego na jezdnię. System ostrzega kierowcę, wspomaga hamowanie lub samoczynnie hamuje, co pozwala na uniknięcie kolizji lub zminimalizowanie jej skutków.
Manewrowanie z przyczepą stało się dziecinnie proste.
Manewrowanie z przyczepą bywa prawdziwym wyzwaniem. Przyczepa nie zawsze reaguje w sposób, w jaki tego oczekujemy, m.in. ze względu na "odwrócony" kierunek skręcania. Przy precyzyjnym cofaniu decydujący jest kąt skrętu kierownicy. System manewrowania przyczepą Trailer Assist zajmie się wszystkim za Ciebie. Wybierz wsteczny bieg, naciśnij przycisk wspomagania parkowania i za pomocą pokrętła regulacji lusterka ustaw kierunek, w którym podążać ma przyczepa. Golf Alltrack będzie kierował automatycznie - Ty musisz tylko zmieniać biegi i obsługiwać pedały hamulca i przyspieszenia. Oznacza to, że przez cały czas masz kontrolę nad pojazdem.
Prawdziwy przyjaciel zawsze pomoże Ci trzymać się trasy.
Chcesz zachować doskonałą trakcję nawet na mokrym i nierównym podłożu? Stały napęd na cztery koła 4MOTION rozdziela siłę napędową odpowiednio do potrzeb każdego z kół, zapobiegając ich buksowaniu i blokowaniu się. Samochód zyskuje doskonałą przyczepność do niemal każdej nawierzchni, a Ty odczuwasz znaczą poprawę komfortu jazdy.
Zawsze dojedziesz do celu.
Nowy Golf Alltrack jest dobrze przygotowany do poruszania się poza asfaltowymi drogami: specjalnie wzmocnione zawieszenie oraz powiększony o 20 mm prześwit poprzeczny zwiększają pewność prowadzenia, a dodatkowe osłony chronią przednią i tylną część podwozia przed uszkodzeniami.
To jeszcze nie wszystko - NowyGolf Alltrack jest wyposażony w praktyczny program jazdy Offroad, który aktywuje jednocześnie kilka systemów wspomagających i poprawia właściwości jezdne samochodu zarówno na głównych drogach, jak i na bezdrożach. Program obejmuje: system zapobiegający blokowaniu się kół podczas hamowania, układ automatycznie zwalniający hamulec postojowy podczas poruszania się w trudnym terenie oraz system zmiany charakterystyki pedału przyspieszenia i elektroniczny system stabilizacji, zoptymalizowany pod kątem jazdy terenowej.
Asystent ruszania pod górę w granicach możliwości zapobiega staczaniu się pojazdu i nie dopuszcza do zgaśnięcia silnika. Ponadto automatycznie ogranicza prędkość obrotową silnika i uruchamia hamulce podczas zjazdu ze wzniesień, umożliwiając kontrolowany zjazd ze stałą prędkością.