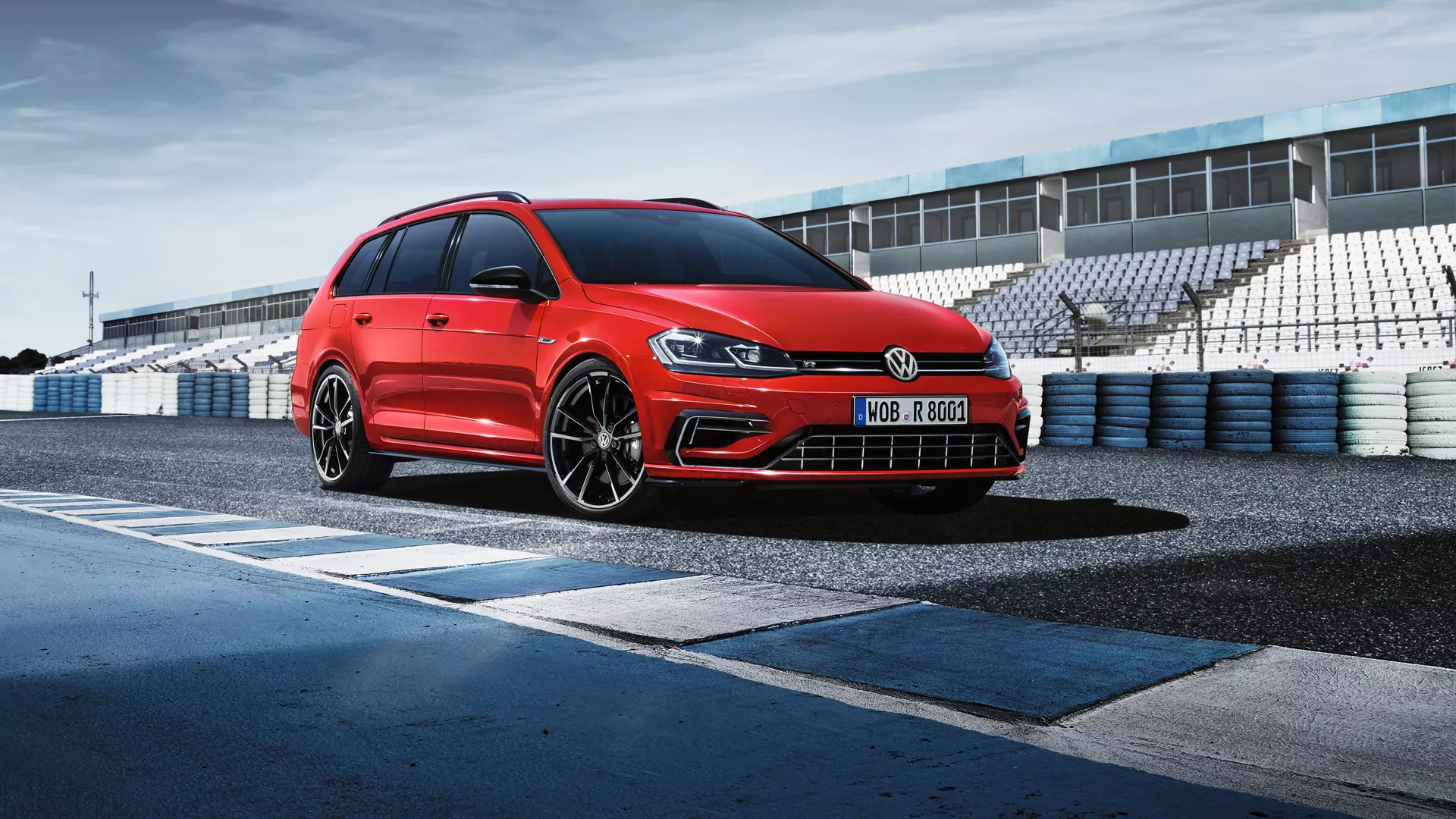 Nowy Golf R Variant. Prosto z toru wyścigowego.
Nowy Golf R Variant jest mocniejszy niż kiedykolwiek - pokazuje, jak szybko rozwija się technologia. Dzięki mocy 228 kW (310 KM) i momentowi obrotowemu 400 Nm łączy w sobie wyrafinowany design i wyjątkowe osiągi. Intuicyjna obsługa, funkcja sterowania gestem – sprawią, że naprawdę zaprzyjaźnisz się ze swoim nowym Golfem R Variant.
Ekonomiczny silnik i wysokie osiągi.
Z toru wyścigowego na drogę: dzięki stałemu napędowi na cztery koła 4MOTION oraz potężnemu silnikowi TSI z turbodoładowaniem i bezpośrednim tryskiem paliwa, możesz cieszyć się nieporównywalnymi wrażeniami podczas jazdy. Nowa 7-biegowa przekładania dwusprzęgłowa DSG gwarantuje ponadto doskonałe przyspieszenie bez utraty przyczepności.
Stylistyka i wyposażenie
Wyposażenie premium w sportowym stylu oraz charakterystyczny design, wzbogacony o elementy właściwe dla linii R, to cechy wyróżniające nowego Golfa R Variant. Dzięki szerokiej gamie dostępnych opcji wykończenia możesz dowolnie skonfigurować wyposażenie samochodu.
Pomoc dla kierowców.
Lata doświadczeń z kierowcami zaowocowały powstaniem inteligentnych systemów wspomagania, zapewniających większy komfort jazdy. Nowy Golf R Variant, teraz jeszcze bardziej intuicyjny, wspiera Cię w krytycznych sytuacjach lub pomaga ich uniknąć.
Przygotuj się na najwyższej klasy system Infotainment.
Nowy Golf Variant R daje Ci wiele możliwości wykorzystania nowoczesnych technologii w jeszcze bardziej intuicyjny i prosty sposób. Jego rewolucyjna funkcja sterowania gestem ułatwi każdą podróż.
Nowy Golf R Variant dba o bezpieczną zmianę pasa i wygodny wyjazd z miejsca parkingowego.
Jeśli w lusterkach wstecznym lub bocznym nie możesz zobaczyć zbliżającego się do Ciebie pojazdu, oznacza to, że znajduje się on w niebezpiecznym martwym punkcie. Teraz o Twoje bezpieczeństwo podczas zmiany pasa ruchu zadba opcjonalny czujnik martwej strefy. Działający od prędkości 15 km/h czujnik ostrzeże Cię, podświetlając diodę znajdującą się na lusterku zewnętrznym Golfa R Variant. Jeżeli mimo wszystko włączysz kierunkowskaz, dioda zacznie migać jaśniej i z większą częstotliwością.
Czujnik Blind Spot, w połączeniu z asystentem utrzymania pasa ruchu Lane Assist, w granicach możliwości systemu, ostrzega przed zmianą pasa ruchu za pomocą korygującego skrętu kierownicą.
Asystent wyjazdu z miejsca parkingowego Rear Traffic Alert, w granicach swoich możliwości, pomaga wyjechać tyłem z miejsca parkingowego. Czujniki w tylnym zderzaku monitorują ruch za samochodem. W przypadku zbliżania się pieszego, roweru lub innego pojazdu system ostrzega kierowcę zarówno sygnałem dźwiękowym, jak i optycznym - na wyświetlaczu radia lub systemu nawigacyjnego. Jeżeli nie zareagujesz na ostrzeżenie, system automatycznie zainicjuje hamowanie, by zminimalizować skutki zderzenia lub nawet go uniknąć.
Korki? Dla Ciebie i Twojego nowego Golfa R Variant to żaden problem.
Opcjonalny asystent jazdy w korkach wykorzystuje sprawdzone funkcje, jak aktywny tempomat ACC i asystent utrzymania toru jazdy Lane Assist, aby zapewnić wygodne poruszanie się za jadącym z przodu pojazdem. Nowy Golf R Variant będzie automatycznie podążał za znajdującym się przed nim samochodem, utrzymując pas ruchu i odpowiedni dystans.
Opcjonalny system Emergency Assist przejmuje na siebie częściowe kierowanie samochodem w przypadku niezdolności kierowcy do prowadzenia auta. System aktywuje się, gdy asystent utrzymania pasa ruchu Lane Assist stwierdzi brak aktywności kierowcy oraz reakcji na ostrzeżenia. Emergency Assist, poprzez szarpnięcia hamulców, dźwiękowe i optyczne sygnały ostrzegawcze, włączenie świateł awaryjnych oraz ingerencje w układ kierowniczy, spróbuje zmusić kierowcę do reakcji, a także ostrzec ewentualnych pasażerów i innych uczestników ruchu. Jeżeli kierowca nadal pozostanie bierny, Golf R Variant zostanie zatrzymany w sposób kontrolowany. System – w granicach swoich możliwości – może zatem pomóc uniknąć wypadku.
Duże natężenie ruchu? Dla Nowego Golfa R Variant to żaden problem.
Już nie musisz nieustannie pilnować odległości od jadącego przed Tobą pojazdu. Pomoże Ci w tym standardowy aktywny tempomat ACC  z systemem obserwacji otoczenia Front Assist.
Czujnik ACC mierzy odległość i prędkość pojazdów jadących przed Twoim Golfem R Variant. Podczas jazdy w kolumnie samochodów i w korkach system współpracuje z opcjonalną przekładnią dwusprzęgłową DSG i wyhamowuje samochód nawet do zupełnego zatrzymania, a także - jeżeli postój nie trwa długo - automatycznie rusza. Przy prędkości do 210 km/h, w granicach swoich możliwości, ACC utrzymuje bezpieczną odległość od jadącego z przodu pojazdu.
Czasami zdarza się coś niespodziewanego i konieczne jest hamowanie awaryjne. W takich sytuacjach pomocny może okazać się system obserwacji otoczenia Front Assist. System, w granicach swoich możliwości, ostrzeże Cię, jeśli wykryje niebezpieczne zbliżenie się do jadącego z przodu pojazdu. W szczególnie krytycznych sytuacjach Front Assist automatycznie zainicjuje hamowanie, redukując prędkość, z jaką mogłoby nastąpić zderzenie.
System awaryjnego hamowania w mieście ingeruje w układ hamulcowy przy poruszaniu się z niewielką prędkością, a funkcja rozpoznawania pieszych jest w stanie - w granicach swoich możliwości - rozpoznać nagłe wtargnięcie pieszego na jezdnię. System ostrzega kierowcę, wspomaga hamowanie lub samoczynnie hamuje, co pozwala na uniknięcie kolizji lub przynajmniej zminimalizowanie jej skutków. 
Widzisz dokładnie te informacje, które chcesz widzieć.
Opcjonalny Active Info Display w stylu R to wyświetlacz wielofunkcyjny z kolorowym ekranem o dużej rozdzielczości i przekątnej 31 cm (12,3 cala). Logo "R" na wyświetlaczu dodatkowo podkreśla sportowy charakter samochodu.Dzięki różnym profilom możesz umieścić w centrum ekranu te dane, które są dla Ciebie ważne. Informacje będą wyświetlane obok klasycznych instrumentów, takich jak obrotomierz, prędkościomierz i licznik kilometrów.
Profile wybiera się szybko i łatwo - za pomocą przycisków na kierownicy wielofunkcyjnej. Możesz na przykład wyświetlić szczegółowe dane trakcyjne lub informacje z systemów wspomagających. Centralny obszar ekranu Display możesz uzupełnić także dodatkowymi danymi.
W przypadku systemu Discover Media Infosystem możesz zadecydować, czy mapy nawigacyjne mają być wyświetlane na na Active Info Display, czy tradycyjnie na wyświetlaczu systemowym. W systemie Discover Pro dostępne są jednocześnie obie opcje wyświetlania.